President Olusegun Obasanjo Addresses Nigerians at the Capitol Hilton Hotel in Washington D.C.
President Obasanjo Visits the United States, October, 1999 -- OUTCRY Magazine's Press Coverage
| | | | | |
| --- | --- | --- | --- | --- |
| | | | | America Welcomes President Obasanjo of the Republic of Nigeria |
President Obasanjo, "My mission is to do God's will to Liberate Nigeria"
President Obasanjo's Message to Nigerians Abroad

"If God calls you to do a job, and you refuse to follow His will, God will punish you!"

"We all must learn a lesson that there is a living God!"

"None of us dead or alive can claim credit for the liberation of Nigeria."

"God liberated Nigeria and praise be to God Almighty!"

says President Olusegun Obasanjo
Prior to the Reception
I was excited to be a part of the Nigerian press pool to cover the entire visit of President Olusegun Obasanjo of Nigeria. However, I arrived in Washington on Wednesday, October 27 at 10.30 am. and at around 11 a.m. I was at the Nigerian Embassy on M Street. The press pool I was supposed to join had already left and covering the Congressional meetings of President Obasanjo. I contacted the press pool director, Mr. Patrick Ayendi (the Press Attaché to the Nigerian embassy) through his cell phone from the embassy. He suggested I start our coverage in the evening by joining the press pool at the Capitol Hilton Hotel reception for the president.
At the Reception
After checking in at the hotel, I headed for the reception hall for President Obasanjo. I arrived two hours earlier for the reception which was supposed to start at 7:30 p.m. at the Capitol Hilton Hotel in downtown Washington DC. While waiting with very few people, I saw those "men in dark glasses and dark suits" like always, one of them had a bomb sniffing dog. They were "the men of the secret service" doing routine security sweeps before President Obasanjo arrived. Having covered many political events, I understood this security routine well. After a while, Nigerians started arriving including, some Americans in the group. Most people dressed in Nigerian outfits and some men in suits. Those in suits were probably coming from work. Many Nigerians have gathered in front of the Presidential Hall of the hotel where the reception was to take place. They were trying to get inside on hearing the news of their president visiting the U.S. What a very exciting moment in history after a peaceful democratic election!
But the entrance of the press to the hall was delayed because Ayendi wanted the press to come into the hall as a group. This of course angered some Nigerian journalists stationed in the U.S. since journalists were always given priority entrance when covering events in the U.S. But we have to remember, this is a Nigerian event and things and arrangements are different. I waited patiently with the rest of the journalists on the left side of the door, being pushed back and forth by people trying to cut through the crowd and make their way to the entrance. Such arrangement for the press as nice as it seemed created a lot of problems for our coverage. Everybody could not possibly be at the same place and at the same time especially when covering different events in a big city. While many of us were standing around waiting, and discussing Nigeria, invitations were spotted on the table. We noticed some people had invitations and were allowed to go inside. Initially, many Nigerians without invitations were angry and by the time of the reception, the press pool was allowed inside and from what I heard later, everybody was eventually allowed inside.

The First Lady of Nigeria Chief (Mrs.) Stella Obasanjo and President Obasanjo in private discussion
President Obasanjo's Message to Nigerians
| | |
| --- | --- |
| | Inside, a Nigerian band was playing music to entertain the crowd of almost a thousand people. Food was brought in by the servers and the celebration of the visit of Nigeria's president started. When President Obasanjo arrived at the hall, everybody was in place including the government officials who accompanied him on this trip and the watchful eyes of "men of the secret service." He was introduced by the embassy's press attaché, Mr. Ayendi. President Obasanjo took over the microphone and initially put everybody at ease telling them to continue eating their food saying, "We are here today to talk to each other, relax and continue eating your food." He created such a very calm atmosphere, it looked like a town meeting. First, he welcomed everybody including Nigerians, friends of Nigerians and the government officials which accompanied him. He introduced them one by one to the audience making us aware that his government is a representation of all the official parties in Nigeria. |
During his speech, he continued to throw in occasional jokes making people laugh every now and then.
In his message to Nigerians, President Obasanjo indicated that both the public section which involves the business sector and the government must work together to rebuild Nigeria. "On a visit like this, the private sector must not be left behind." Evidently, he was also accompanied by the business sector of the country. At this time, he got to the serious part of his speech. He told us that five years ago many Nigerians had given up hope because they were fed up with the political situation in the country. With a bold and loud voice he said, "We all must learn a lesson that there is a living God!" He told the audience that whatever people do, God always give them a long rope and when He decides enough is enough, then enough is enough! President Obasanjo said that God listened and heard the painful voices and saw the tears of Nigerians crying out for help."None of us dead or alive can claim credit for the liberation of Nigeria," he exploded. "God liberated Nigeria and praise be to God Almighty!"
When he first started to contest the election as a Presidential candidate, many people were telling him it would not work. "But when God decided to do His thing, He never does it half way, He does it perfectly," said President Obasanjo. When he was asked by people what would have happened if had lost the election, laughingly he said he would have returned to his farm. He indicated that political corruption had gotten to an unbearable level leading to many national crises including petrol shortage, armed robbery and many more problems. He said that there were so many problems and he did not know where to start. Then he prayed to God who gave him the job to give him directions as to where to start. Earlier before taking the office after the election, he had gone all over the world including the U.S. asking for support and help. Then he started opening "the book" (as an agenda God gave him) one by one and he followed God's guidance and things start to get better. His first concern was to heal the wounds because Nigeria had been fragmented, hurt, and painfully oppressed. Even though his party won a majority, he was asked by party members to include members of other parties in his cabinet giving the country a political stability.
President Obasanjo said he observed that many of the military leaders were involved in mindless and murderous corruption! There was petrol shortage in the country of a leading oil producing nation! The reason was the rulers purposely ran down the four refineries in the country leading to petrol shortage. Nigerians started dying in car and house explosions because they were storing petrol in their cars and houses due to national shortage. The rulers created business for themselves by bringing petrol to the country and making a lot of money as the rest of Nigeria continue to suffer. This was why he referred to it as a mindless and murderous corruption! When he took office, he worked hard to repair the oil refineries. "Thank God, petrol shortage is now a thing of the past," said President Obasanjo. "Even N.E.P.A - - the electric corporation is getting better." But, he quickly cautioned that the energy producing corporation has not fully improved yet, but on its way. He believed that electric interruption in Nigeria will soon be a thing of the past.
"We have to take action to correct the wrongs of the past," said President Obasanjo. But everything cannot be done in one day he cautioned. He believed that every step the government takes must make things better for the Nigerian people. The government will continue to fight corruption and work hard to improve life for Nigerians. During the speech, somebody yelled, "Soldiers must remain in barracks!" Then he became emotional saying this is a divine intervention by God to make things better for Nigeria as a nation. He said, "Soldiers for barracks or no soldier for barracks, if God gives you a job to do and you failed to do His will, God will punish you! This is an assignment from God! The hall exploded in an applause with a standing ovation. "No soldier can suppress the will of the people!" he yelled out!" another applause followed.
President Obasanjo Appeals to Nigerians Abroad
"We are fighting against crime and will not leave any stone unturned," said President Obasanjo. "We want you all to come home and invest both your money and intellectual talents in Nigeria," he appealed. He indicated that conditions at home must improve and Nigerians abroad must come home to do their part and make Nigeria a better place. He explained that he has invited people to invest in Nigeria, but investors will not adequately respond due to the problems of crime in Nigeria. That is the primary reason he is using a multidimensional approach in dealing with some of the problems since the government cannot create jobs if people do not invest in Nigeria.
"We are asking you to come home," he stressed. He said that sooner or later, people will be asking Nigerians overseas what they are doing and why they are not going home. He invited people to come home during Christmas and New Year celebrations if they want to see the full blown glory of Nigeria in action. He told the audience that someone told him that, "When the roads are tarred, no electric interruption, good transportation and telephone system, then I'll come home!" The President responded saying, "If you are waiting for all those things to happen, then we do not need you after we have accomplished everything. You may as well stay here!" At this time he stressed that Nigerians abroad should come home and be a part of the contribution to the development for a better Nigeria. "We are very committed to the good of Nigeria and it is not going to be easy," he warned.
Comments on the Attitude of the Nigerian Embassy Staff
He emphasized that many things will change including the embassy. The embassy staff will change their attitude towards people seeking visas to enter Nigeria either as tourists or as investors. "We must encourage people to come to Nigeria," said President Obasanjo. He explained that he has gone all over the world to encourage people to come to Nigeria and if any embassy official is disturbing such effort due to inefficiency he would ask such embassy officials to be returned home on the first available plane. He cautioned that Nigerians should not be calling the embassy for ticket money to go home because the embassy does not have funds for such request.
Online Ideas from Nigerians Abroad
President Obasanjo said he has an E-mail address and has received many suggestions from Nigerians all over the world. He indicated that some are educational experiences for him, while some are very useful, others asked for impossible things. He requests people to send him ideas that the country can use for the betterment of the nation.
Message to Nigerians Involved in Criminal Behavior
President Obasanjo warned that all those Nigerians involved in shady businesses, criminal activities including drug trafficking are giving Nigeria a bad name and they should stop. If they are caught, they would be severely dealt with. "Drug trafficking is bad for Nigeria," said President Obasanjo. He said that he will continue to pray for those involved in drug trafficking, that may God change their hearts.
"We will leave no stone unturned! May God bless you all, and God bless Nigeria," said the President as the hall exploded in an applause with standing ovation.
Brief Analysis
President Olusegun Obasanjo came to the United States as a victor of the free democratic election which took place in Nigeria a few months ago. Shortly before the election he was in special custody as he referred to it later at another meeting. But, the bitterness of his experience was none existent from his presentation. Although many Nigerians at home and abroad thought that Obasanjo would make no difference since they believed he would be a puppet of the former corrupt military leader, Gbadamosi Babangida. Based on what we have seen and experienced so far, President Obasanjo proved many people wrong. He refused to be influenced by the corruption of the past military leaders. He is presently emerging as a savior of Nigeria leading the country into a bright future. President Obasanjo is standing very tall among leaders of all nations. He is a man of vision and commitment for a better Nigeria.
From his speech, Obasanjo can be considered an orator who made his presentation without looking at any prepared script. His charismatic attitude won most Nigerians' respect, admiration and appreciation in the hall that night. He was very convincing in his speech that he was ready and committed to the ongoing improvement in Nigeria. Unfortunately, he did not entertain any question from the audience nor the press because he said he had already touched upon every crucial issue of interest to them.
President Obasanjo presented his message with the dynamism of a remarkable leader and with the sagacity of an experienced head of state. His love for Nigeria is unquenchable. He never made issue about his personal feelings as important as he made the issue of Nigeria's progress his own priority. He occasional threw some jokes into his presentation entertaining the audience himself. For example, the entertaining Nigerian band intermittently sneak in the talking drum saying most of the familiar themes as we know them from the Yoruba land. One of them was, "Baba ni baba nje, e ba takiti ki e fori sole, baba ni baba nje." Meaning "A father is always a father no matter how angry people get, jump up and bang their heads against the ground, a father is always a father." Later the talking drummer (gongon man) sneaked another theme and President Obasanjo laughingly said, "Wait O, I never heard that one before Oh." The audience laughed. After a while during the presentation, many people probably forgot he is the president of a nation. He made people very relaxed, and made everybody so comfortable that it was like chatting with a friend.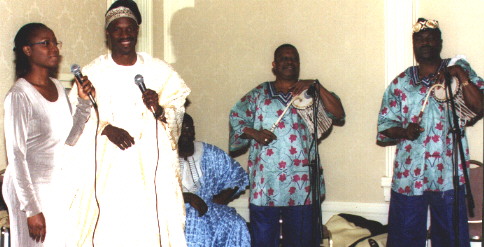 After his speech some Nigerian women were humming another common Nigerian song which moved most of us Nigerian journalists.
Ayo ayo a kari gbogbo wa, (Tune: O du odu alaiye gberegede)
A yo ayo a kari gbogbo wa
Olusegun ti kayo de o
Ayo, ayo a kari gbogbo wa - - - - -
Obasanjo gbayi o gbeye,
Ayo, ayo a kari gbogbo wa.
It was a very wonderful evening to be a part of the reception for President Obasanjo of Nigeria by the Nigerians in Washington DC. If I said I was not moved during this moment, I lied. It was the moment I have been waiting for over the years and praying hard to God to help us as a nation realize a day like this. Truly, I was convinced he was a man called by God to salvage Nigeria from the tyranny of the military rule and oppression. His faith in God was remarkable with the boldness of a lion. His love for Nigeria as a nation is unshaken. His great human passion for Nigerians and their welfare is beyond any living being can surpass. President Obasanjo becomes the personification of a true Mosses leading the Nigerian people to the promise land through divine intervention from above. Let us pray that all of us Nigerians both abroad and at home will give this man of vision our full support to make Nigeria one of the greatest nations in the world.
For the first time in my life while abroad, and after listening to our president, I felt even more proud to be a Nigerian and glad to witness this historical occasion in Washington D.C. happening at the end of this millennium. May God reign in Nigeria and long live Nigeria's democracy!
As soon as the reception was over, "men of the secret service" tightened up their protection around President Obasanjo. They moved closer and took position along the pathway leading to the door. They gave him a solid protective security while escorting him and his wife out of the Capitol Hilton Hotel. As he was coming down the step one of the women shouted in Yoruba, "President Obasanjo, here are the Egba Association members praising you for your good work." He looked up and waved at them and finally guided to the waiting Limousine by men of the secret service and the Nigerian security guards in front of the hotel.
V. 'Yinka Vidal reporting from the Capitol Hilton Hotel in Washington, D.C.