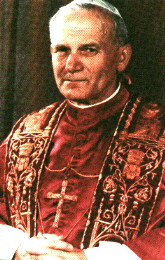 His Holy Highness: Pope John Paul II -- the true shepherd
"The Lord has promised good to me, His word my hope secures. He will my shield and portion be. As long as life endures."
"Yea, when this flesh and heart shall fail, and mortal life shall cease. I shall possess, within the veil, a life of joy and peace." ----- From Amazing Grace.
"I am the true tabernacle and I am the food of eternal life."
The Pictorial coverage of the Pope's Visit to St. Louis, Missouri
Pope's Message:Pope2
Miracles by the Pope:Pope1
Holy! Holy! Holy! Lord God Almighty
The entire OUTCRY Magazine and Lara Publications welcome His Holy Highness Pope John Paul II.
Pope John Paul II will be visiting with us in St. Louis starting from Tuesday Jan. 26-27, 1999.
* See the pictorial press coverage below
Stay tuned for the entire press coverage on this page -- reporting around the world, and even into the African nations --- live from St. Louis Missouri.
Jesus said, "I am the good shepherd and I know my sheep. My sheep know me. They hear my voice, I know them and they know me. And I will give them eternal life and they shall never perish. For I will lay down my life for my sheep." St. John 10 vs.27
'Yinka Vidal, reporting on the road with the Pope from St. Louis, Missouri
Lara Publications, Florissant, MO, USA.