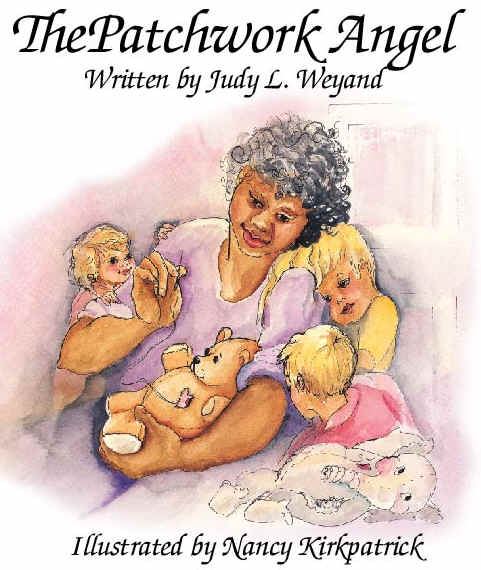 The Patchwork Angel

is a children's book that allows both the reader and listener to recognize the main character as someone special in their own life.

In the story, LaLa comes to a family in need and provides so much more than the Want Ad required. She influences two generations of children with values and attitudes that are taught by her gentle and loving spirit.

LaLa's love and dedication are poignantly illustrated throughout the book in both words and watercolors, capturing expressions of love felt by the characters. The story warms the heart and rekindles an appreciation for those who quietly touch our lives daily in an ordinary but powerful way. ISBN# 1-9307-12-01-4, 36 pages, hardback, $19.95

Judy. L. Weyand

has been working with children for the past fifteen years. As a counselor, she has worked with not only children, but parents and educators as well. Her success as a teacher, counselor and speaker on personality, personal growth, parenting, effective communication and leadership, led her to writing books to encourage all to explore the God given gifts that each have to offer others. The Patchwork Angel is her second children's book.

Judy lives with her husband and three children in Tampa, Florida

Nancy Kirkpatrick has accumulated over thirty first place awards, including six best of shows, to attest to her talent. Her paintings, mainly in watercolor, are in many collector's homes and businesses. She has enjoyed several art-related careers, such as fashion design, book illustration, interior design and teaching art. At the present time she is concentrating her talents illustrating children's books. Her most recent works include A Vintage Treasure and The Patchwork Angel. A Vintage Treasure by Judy L. Weyand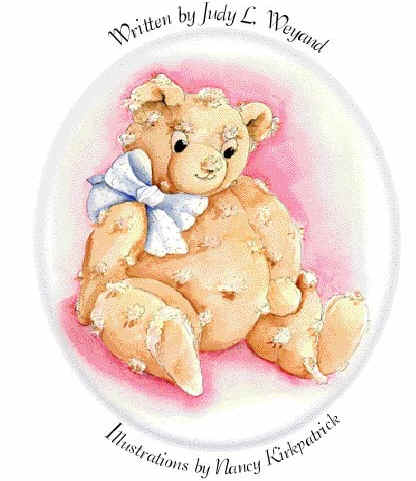 A Vintage Treasure is a story that expresses the importance of passing on values and heritage to children. The story uses a cloth, and a beloved bear to illustrate one way that heritage and values are brought to life.
A woman finds an old chenille bedspread, rich with childhood memories of a simpler time. With loving hands she sews a cuddly teddy bear for her newborn grandson. As the child grows, he receives many wonderful toys, but his most cherished is the bear with the tucked ears and soft face.
In a fast paces world of high tech toys, it is the simplicity of a handmade toy that endures and becomes more cherished as time goes by. (The book includes a pattern to make the bear)
ISBN# 1-930712-00-6 46 pages, softback, $19.95
How to Order:
Fax: (813)-907-8498 (24 Hours a day)
Check or Money order: Send payable to: In Unexpected Ways, P.O. Box 46716, Tampa, Florida 33647
Prices: Patchwork Angel, Hardback: $19.95 (tax included), $3.50 (Shipping and handling), $22.95 total.
Vintage Treasure Softback: $19.95 (tax included), $3.50 (Shipping and handling), $22.95 total
Available at the following bookstores:
Tampa Bay Area Locations

Becky's Hallmark Collections The Christian Armory
727 397-5265 813 805-9618 813 979-7112

J & L Collectibles Joyful Reader Scriptura Calico Cat
813 985-0483 813 907-7175 813 653-0755 813 621-8470
E-mail Author: Weyandsos@aol.com
Phone: (813) 852-8856
Click Here to Enter Credit Card Information on a Secured Server